Specialized Mountain Bikes Are Designed To Ride It All.
Specialized employees are all riders - that fact has guided their every decision since 1974. When quality tires weren't around, Specialized strove to make the best. When people wanted to ride cruisers in the dirt, they made the first production mountain bike. When roadies wanted to go faster, they doubled-down on carbon and built their own wind tunnel. And when they saw kids struggling to focus in school, they began supporting Outride to help promote better health through cycling. As quickly as the mountain bike arrived, so did the issue of trail access. In 1987, Specialized took part in a round table of advocacy groups, and within six months, the International Mountain Bike Association (IMBA) was born. In short order, Specialized became trail access evangelists. Without trail advocates, there'd be no trails to protect. It's as simple as that. Specialized has always been focused on building not only quality trails, but quality bikes for mountain bikers. Specialized. Made for riders, by riders.

Whether you're looking for the tried and true Rockhopper, the thrill seeking Fuse, the purebred race machine Chisel, the single track flow finding Stumpjumper, the race winning thoroughbred Epic, the dirt jump freestyler P.3, the unequalled ride power and range of the Turbo Levo, the capable and rugged Turbo Kenevo or the confidence inspiring and versatile Turbo Tero, there is a Specialized mountain bike for you.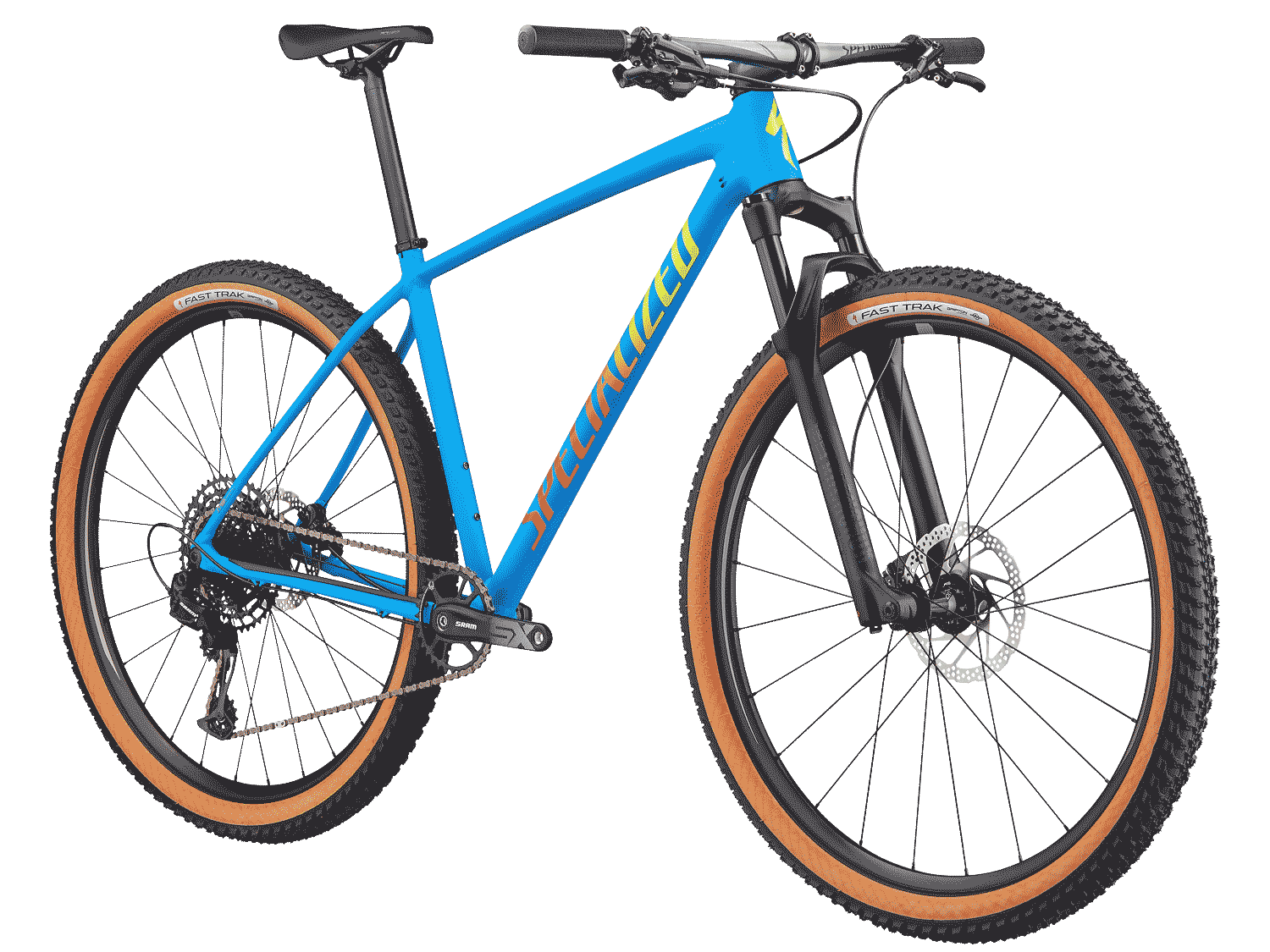 The Specialized Chisel is a purebred aluminum XC race machine. Made for riders that want to crush climbs, rocket out of corners, and rip through rock gardens with speed and efficiency. One lightest alloy hardtail frames out there, nearly carbon light, the Chisel is also forgiving and stiff so you experience less trail chatter. You can ride harder and longer on the Chisel.
With a 30.9mm seat post, the Chisel is dropper post compatible.
Internal cable routing keeps all of the cables protected and out of the way.
A 12x148mm rear thru-axle greatly improves strength, stability and power.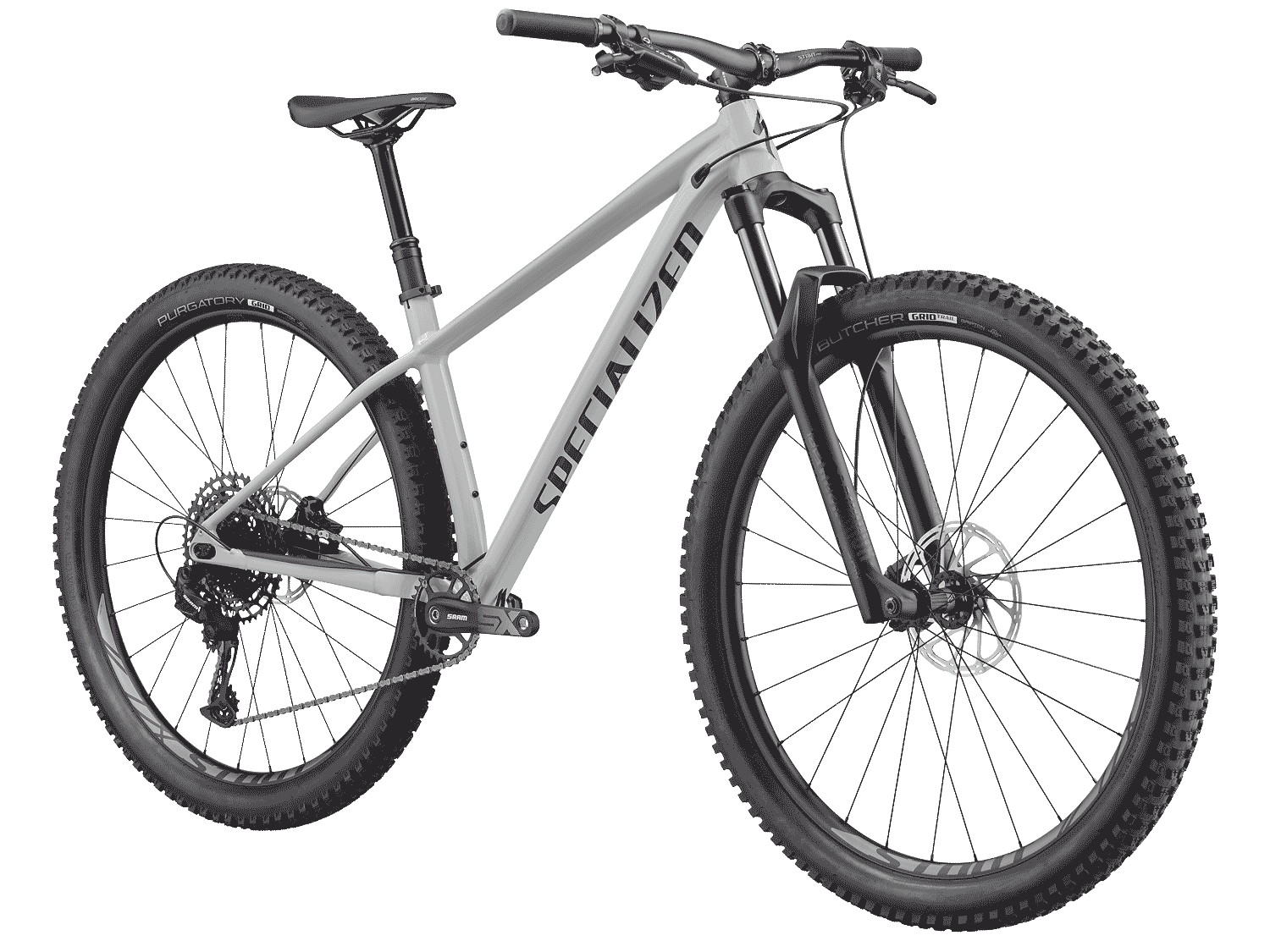 The Specialized Fuse is a fun trail mountain bike that is for chasing thrills. The Fuse is snappy, confident, and happiest on trails that have technical features. The details all improve the ride quality, the wide-diameter downtube boosts stiffness while the low-slung top tube improves maneuverability making it capable of tearing up single track. Don't be afraid to push your limits on the Fuse, it's built to shred.
29 Inch and 27.5 Inch wheel options between models.
Dropper posts to move the seat when riding descents and obstacles.
130-millimeters of plush suspension and SRAM 1x Drivetrains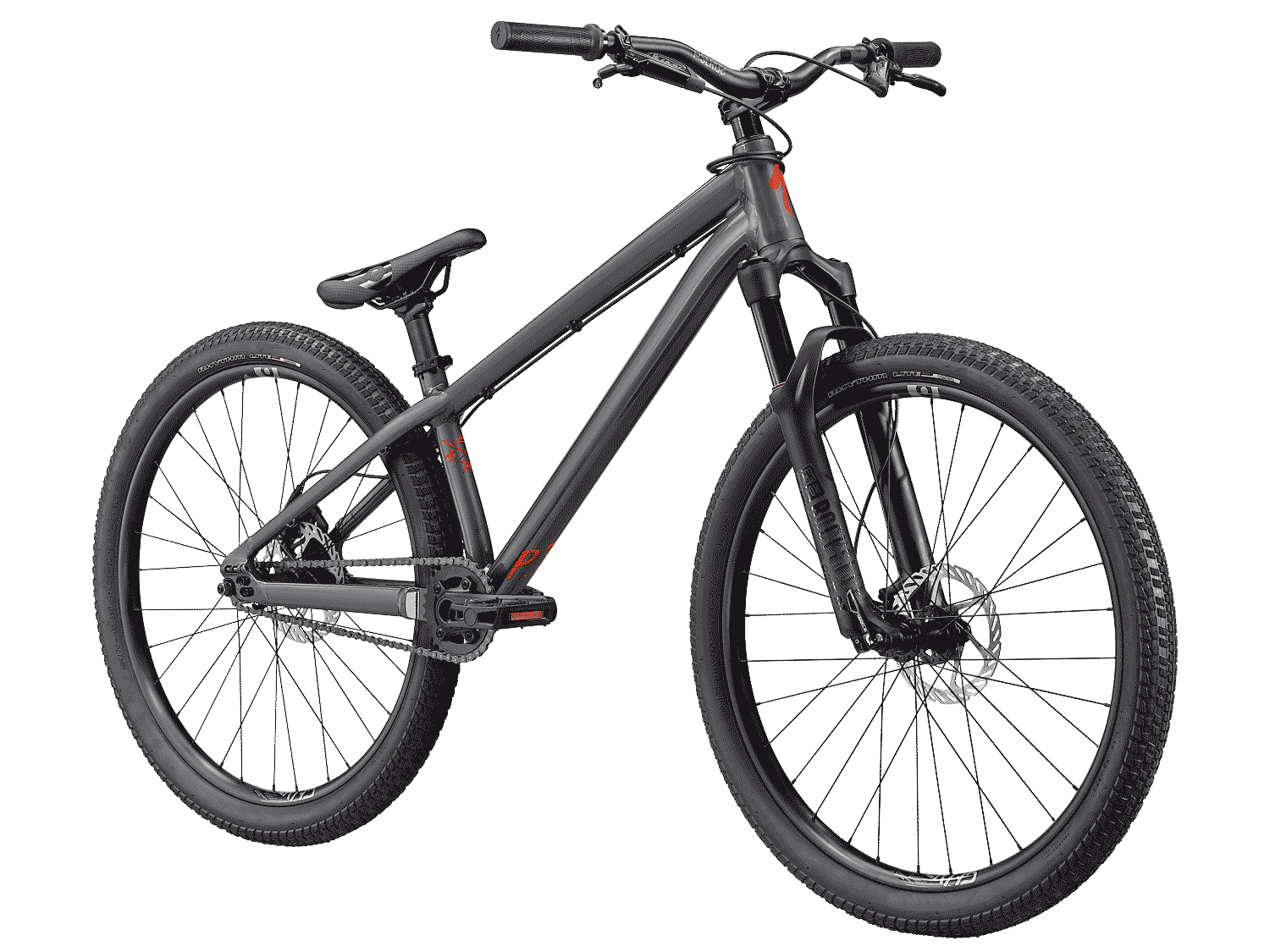 The Specialized P.3 BMX Bike is a playful BMX Dirt Jump bike. This hardtail freestyler delivers a bombproof ride for riders looking to hit the park, then a flow trail and then heading to launch off of loading docks. The P.3 puts the focus on toughness and durability, with a frame and quality parts that will last. Trust your bike and go for big air on the P.3.
The roomy cockpit that lets you maneuver the bike underneath you.
Premium aluminum frame stands up to the toughest riders.
Oversized handlebars keep you in control while going big.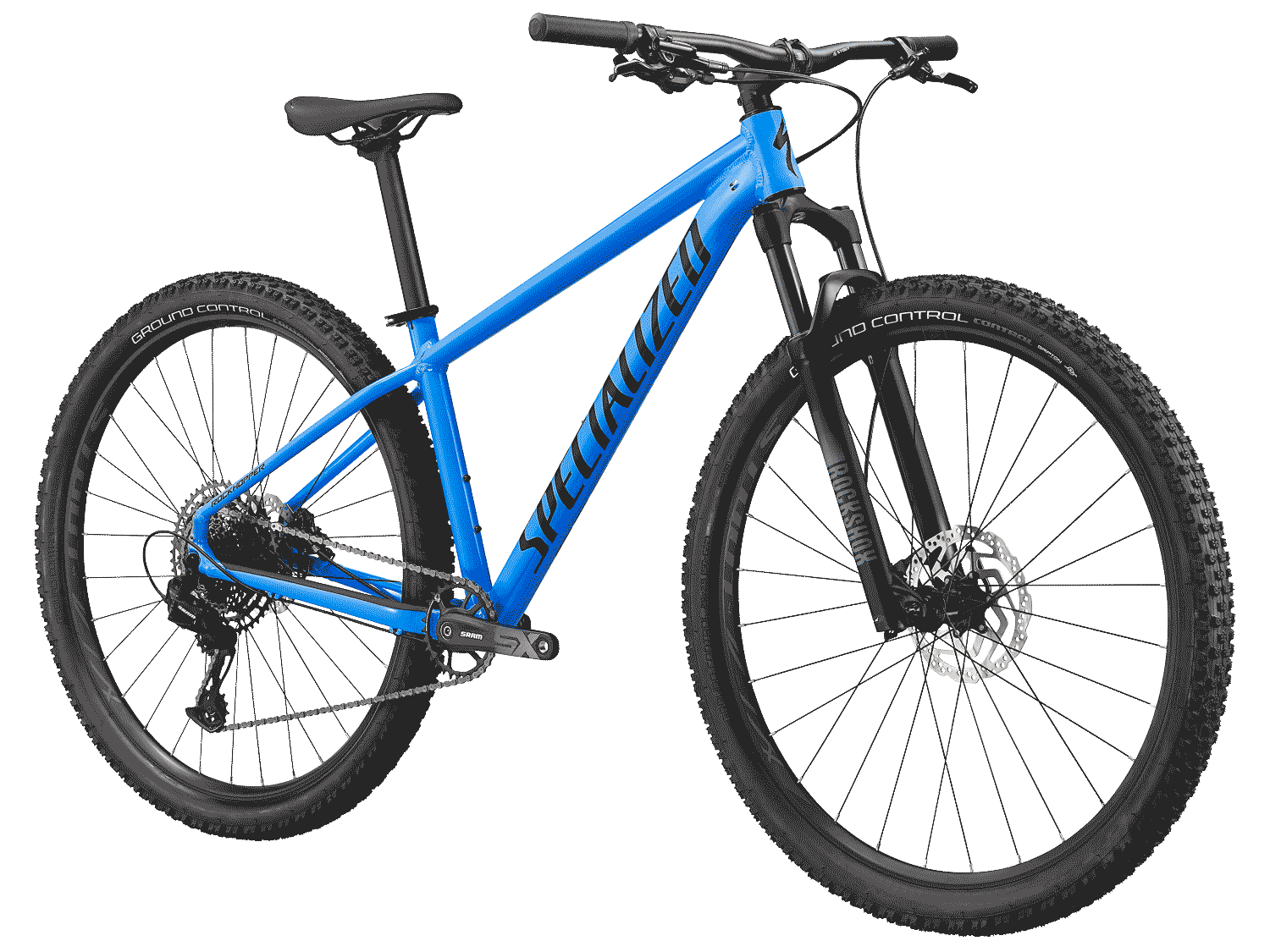 The Specialized Rockhopper mountain bike gives versatility and performance for all riders. It is a lightweight, but heavy-hitting bike with huge capability and unrivaled ride quality. The Rockhopper starts with a lightweight, frame, adds modern parts, and versatile geometry for capability. Innovative sizing and custom tuned suspension add performance without dialing up the price. Take the adventurous shortcuts or ride single track on the Rockhopper.
29, 27.5, and 26 (XXS only) inch wheel size options ensure the best fit for you and your riding style.
Premium aluminum frame features hydroformed tubes in order to keep weight low and strength high.
Size-specific suspension travel ensures consistent geometry, handling and performance.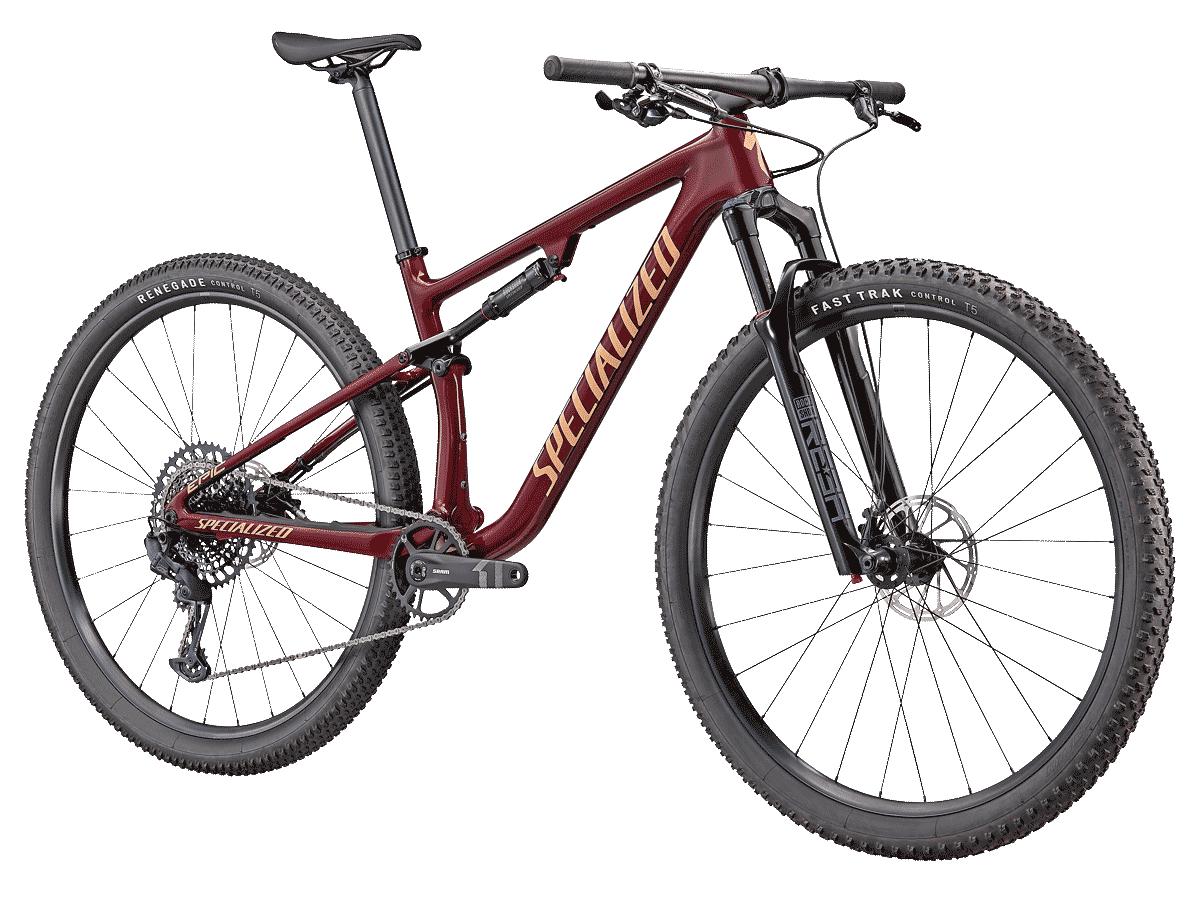 The Specialized Epic Mountain Bike is a race ready cross country bike. The lightweight build paired with Brain Technology create an unmatched combination of pedaling efficiency and control, while the 29 inch wheels deliver speed making it great for riders who want to race competitively or against themselves. Get out and chase your personal record on the Epic
Brain Technology - know the difference between pedaling force and bump force.
Speed frame - FACT carbon to increase stiffness and decrease weight.
The best in pedaling efficiency, light weight and control.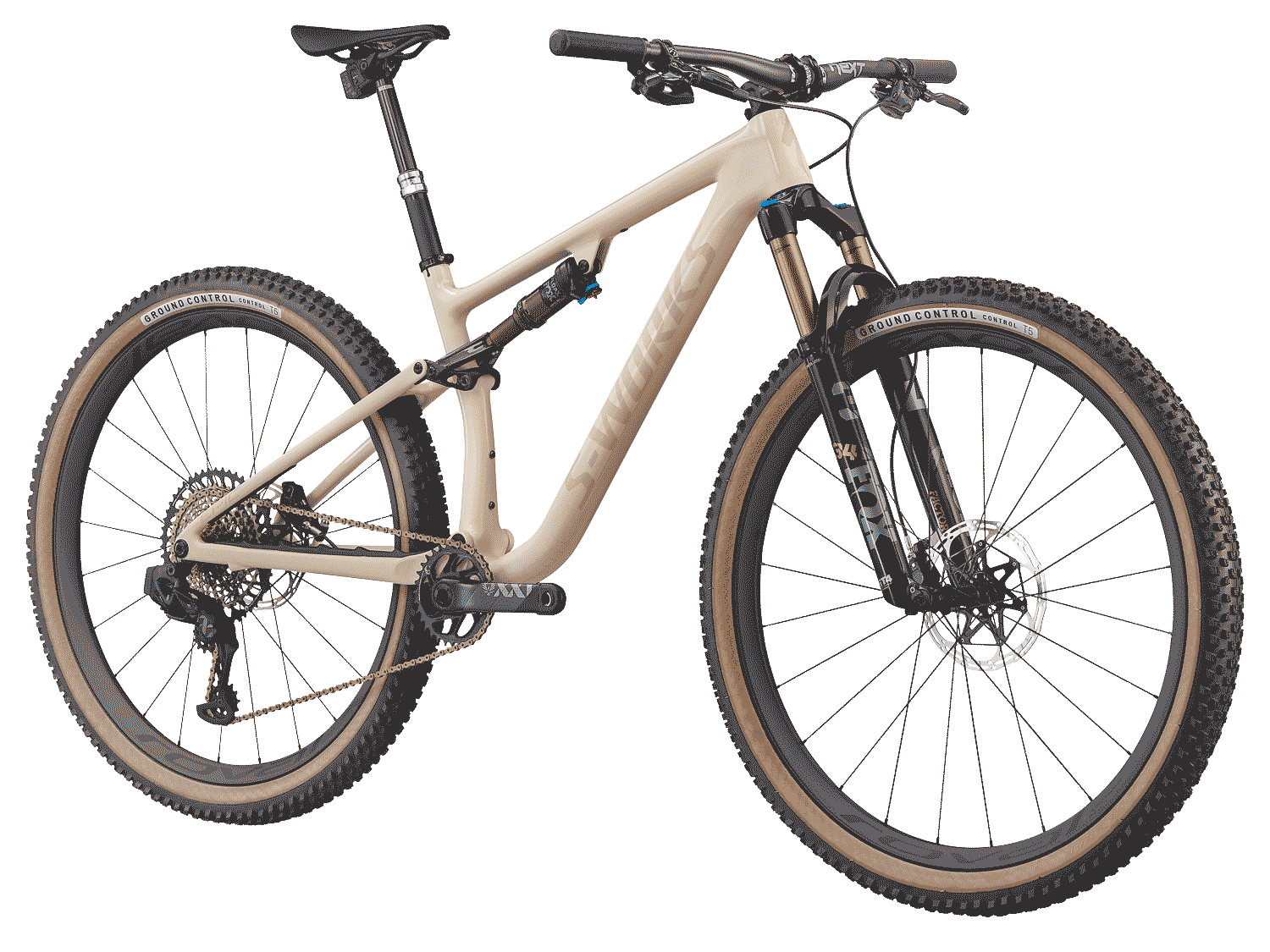 The Specialized Epic EVO a cross country bike that takes it to the next level. The lightweight build paired with custom tuned suspension combine to strike the perfect balance for ripping backcountry miles and railing endless singletrack, while it's evolved geometry makes it a go-to bike for riders who seek technical terrain. Don't be afraid to get into the gritty sections with the Epic Evo.
EVO Geometry is relaxed and fast.
FlipChip can be used for sharper handling and more clearance.
Speed frame - FACT carbon to increase stiffness and decrease weight.
The Specialized Stumpjumper is a fun trail bike eager to find flow on singletrack rides. With a lightweight and stiff frame, the Stumpjumper can climb and accelerate quickly, yet descend with confidence, making it ideal for riders who want to rip through every conceivable trail condition. There's never been an all-round trail bike as capable as the Stumpjumper.
Rider-First Engineered frames for same ride traits on all sizes.
S-Sizing Geometry. Sizing bases on rider size and style, not inseam.
Integrated SWAT Storage on all models 2022 and newer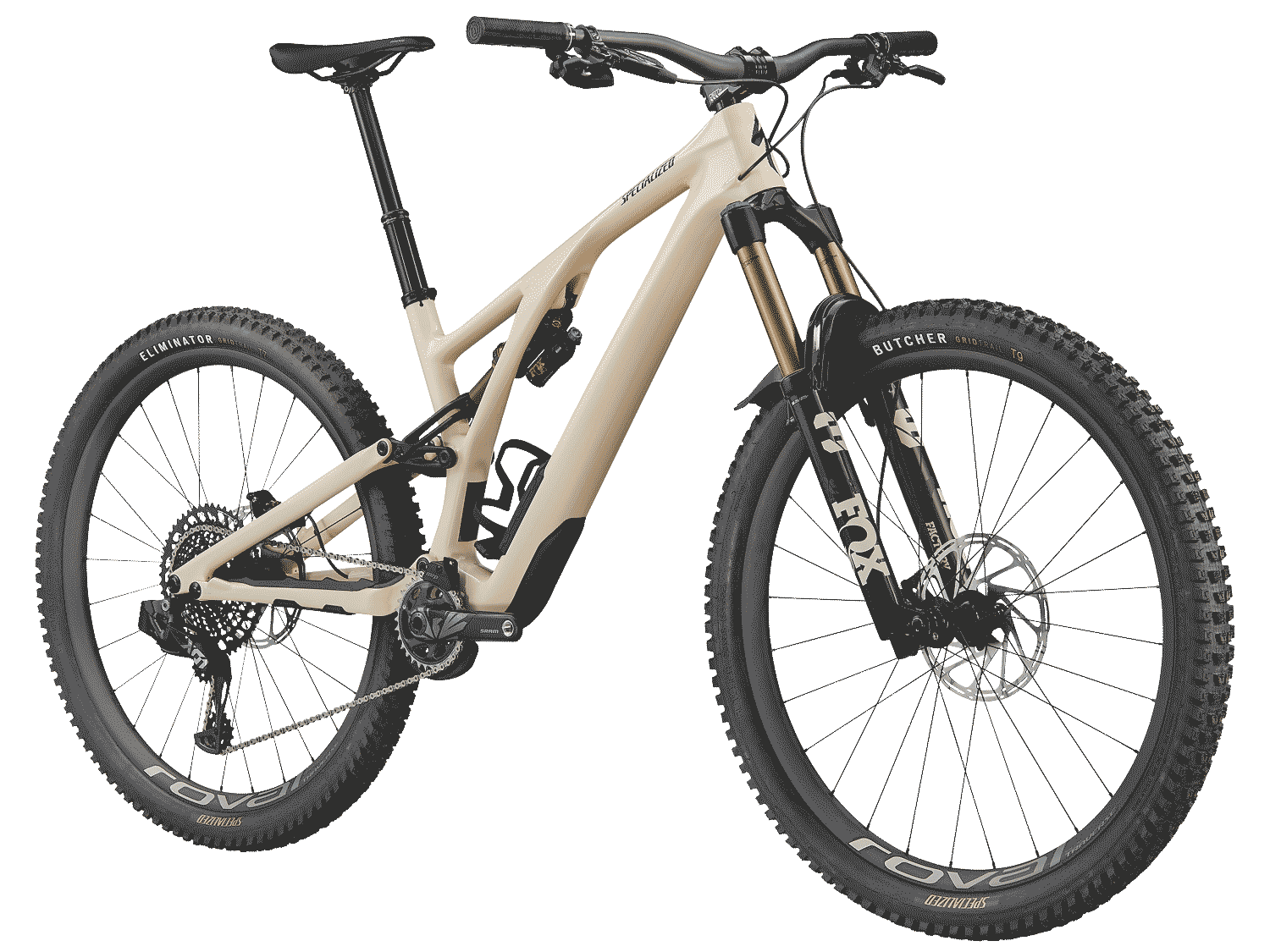 Specialized Stumpjumper EVO
The Specialized Stumpjumper EVO is a rowdy trail bike. The suspension and RX tune strike the perfect balance between responsiveness, efficiency, and plush, while EVO design deliver unprecedented control, capability and adjustability that make it a perfect pair for riders who make the trails a playground, but desire downhill capability too. Jump right in and make your ride anything you desire with the Stumpjumper EVO.
Rider-First Engineered frames for same ride traits on all sizes.
S-Sizing Geometry. Sizing bases on rider size and style, not inseam.
Integrated SWAT Storage on all models 2022 and newer.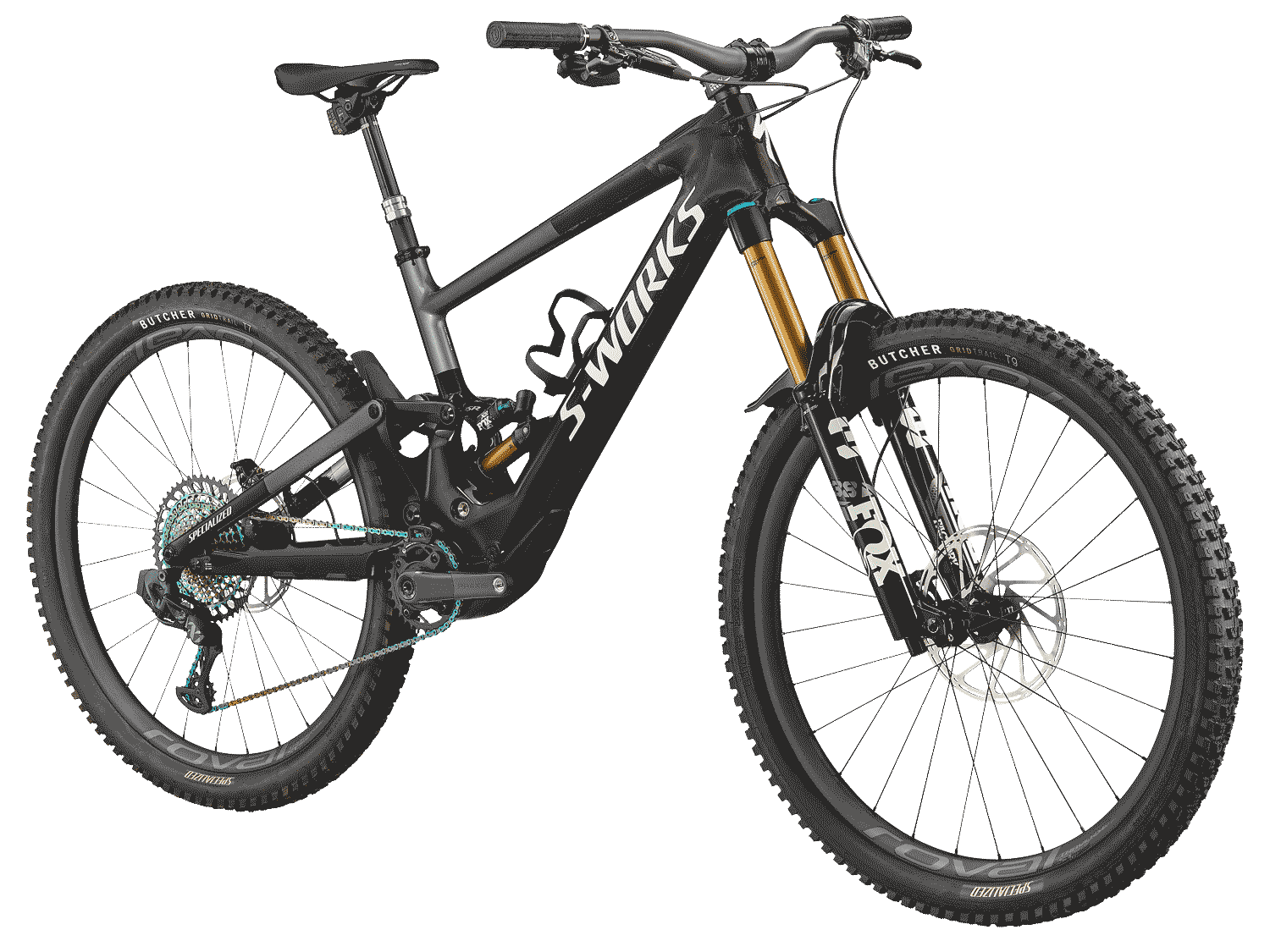 The Specialized Turbo Kenevo eBike is a capable e-mountain bike that is made to ride hard. Its supple suspension paired with a durable chassis and components make it comfortable and trustworthy while its geometry gives you a centered feel, making it easy to maintain speed in dicey conditions.The Kenevo is the perfect bike for riders who like to ride fast on the roughest trails. Go ahead and push the limits with the Kenevo.
2x You (Super Light System) on the Kenevo SL
4x You (Full Power System) on the Kenevo
Kenevo SL is about 12 pounds lighter than the Kenevo. Kenevo has a longer range.
170/170mm suspension on the Kenevo SL, 180/180mm suspension on the Kenevo.
The Specialized Turbo Levo eBike makes trail riding even more fun. A powerful motor and battery combine for power and range, while its torque is dialed to not lose traction in loose, steep terrain. The Levo is perfect for riders who want an electric mountain bike that feels like a natural extension of themselves to ride longer with more power. Don't shy away from racking up single track miles on the Levo.
Ride anywhere range, up to 5 hours of trail time.
MasterMind TCU, allows real time tuning of support levels.
Mixed wheels, nimble ride - 27.5 inch back wheel and 29 inch front wheel.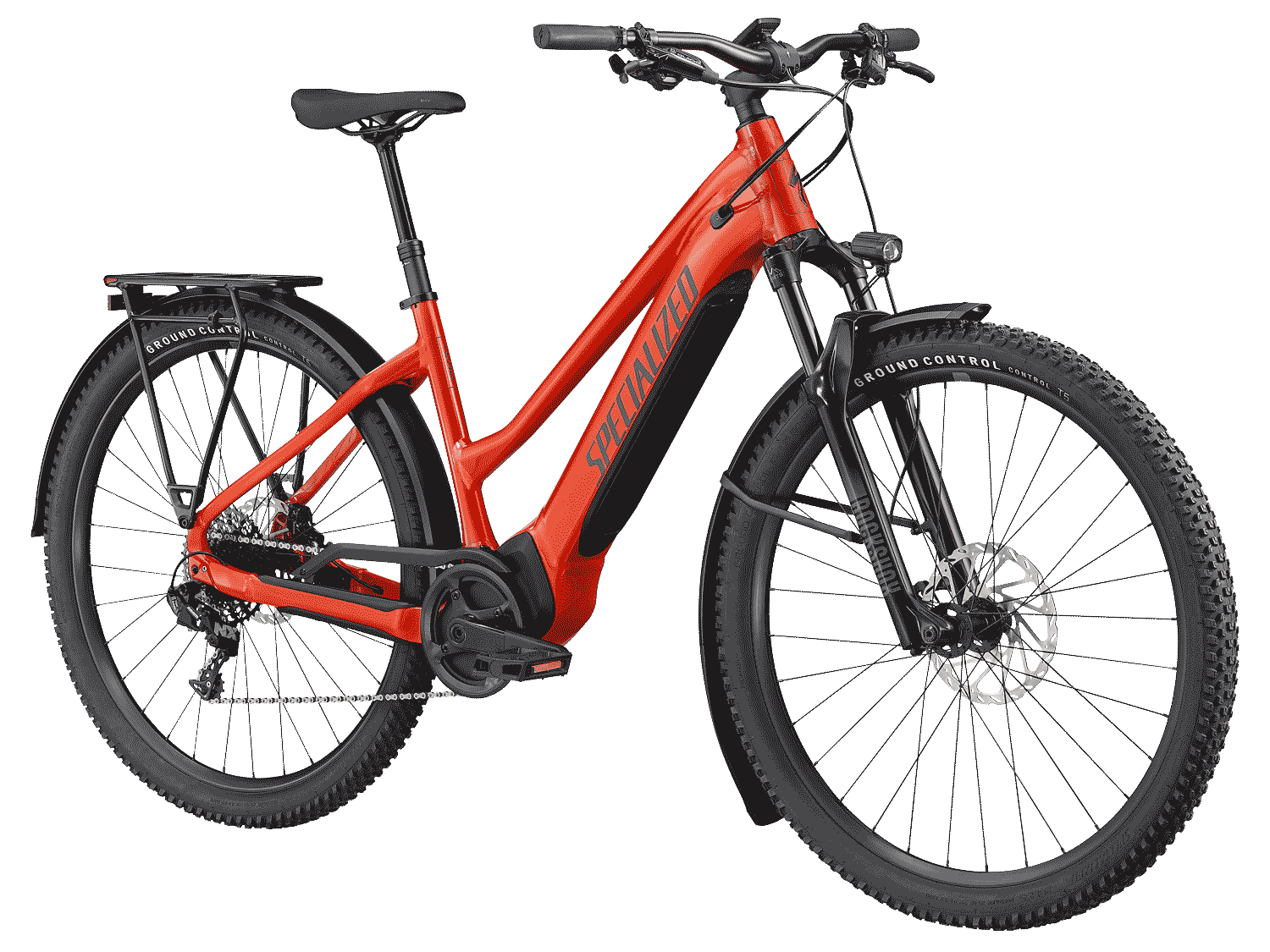 The Specialized Tero eBike is a do it all mountain bike. With its power, confidence, and versatility the Tero is capable of riding singletrack or getting around town with ease, while its upright riding position places you between the wheels for control, balance, confidence regardless of where you ride. The Tero is the go-to electric mountain bike for the rider who wants versatility and function on dirt and pavement. Explore more with the Tero.
Anti-theft features and connectivity collaborate to keep your investment safe.
Fender, Rack, and Kickstand mounts. Rated to pull a thru-axle trailer. Child seat compatible.
Turbo Full Power 2.0E Motor and 530 Wh Battery- Integrated into the frame.
Need Help Finding the Perfect Mountain Bike?
Erik was only 13 when he started Erik's in 1977. His first bike, a hand-me-down from an older family member, sparked his interest in bikes. With entrepreneurial spirit, and the money he saved from his job as a paperboy, Erik began his business. Erik's Bike Board Ski has grown into the Midwest's leading bike, snowboard & downhill ski retailer. We are passionate about our sports & experts on all the gear we carry! Learn more about ERIK'S History.