This Fat Bike Buying Guide will walk you through everything you need to know about fat bikes and fat biking. Fat bikes are great for winter biking and biking in snow, but they are more than snow bikes. In fact, more and more people are riding their fat bikes year round! If you're looking for a new cycling challenge, or interested in riding on diverse terrains like snow and sand, fat biking may be for you. If you want to ride singletrack all summer or commute in the winter and want to have more FUN on your bike, especially in the winter - then let us introduce you to the world of fat biking.
Most fat bike frames are made of either steel, aluminum, or carbon fiber. Your budget and your riding preferences will help you determine which frame type will serve you best.

Steel Frames are typically the least expensive but also the heaviest which will make you less efficient and the bike harder to maneuver.

Mid-range fat bikes usually have Aluminum Frames. They are lighter and stiffer than steel and thus tend to be easier to steer and operate.

At the higher-end, most frames are carbon. Carbon Frames are light making you more efficient. They are easy to handle and typically have more give making for a smooth ride.
The one thing that every snow bicycle / fat bike has in common is wide tires. Because the volume of the tire is so great, they can be run at very low PSIs - 5 PSI or lower. Low tire pressure lets the tire "squat" more and provides a bigger contact patch. This makes for more float on snow and increased grip.

A great way to gain extra traction (and this is incredibly important for winter bikers who aren't riding fat bikes) is studded tires. Studded tires help grip ice and keep you and your bike upright. Especially when temperatures fluctuate, groomed trails, bike paths, and roads can turn icy. It doesn't matter how big the tires are or how much tread there is, they will slip on ice. Studded tires are your best bet to keep traction in icy conditions.
Fat bikes are great for all types of terrain, even in the summer. Gone are the days of walking your bike down the beach. With a fat bike you'll have the float and control you need to actually be able to ride through sand, even down loose sand beaches, with much more efficiency than walking. Bonus, you'll end up with less sand in unwanted places. Outside of sand and snow, fat bikes are a great option for loading up and going on adventures anywhere. Pavement, over the river, through the woods or off to work you go - fat bikes can do it all, with surprising speed even when loaded up with gear. Fat bikes are especially great for riding single track during the warm months as well, given their ability to roll over larger obstacles with ease. So even though most people think of snow when fat bikes are mentioned, they're great year round bikes as well!
Just because there is snow on the ground, doesn't mean it's time to stop cycling! Granted it might seem daunting to ride through winter snow and ice, but you might want to try it before you dismiss the idea! Fat bikes offer plenty of float and control in deep snow, and ride with ease on groomed single track even in sub zero weather. Regardless of the weather, you will benefit from riding your bike more often. Winter biking gets your heart pumping, blood flowing and the calories burned off, plus, a little wind in the face is better than a cup of coffee to get your mind and body moving.

Keep Reading to learn how to ride a snow bicycle and Fat Bike Winter Riding!
Dressing for Winter Biking success
Fat biking in the winter requires the right clothes to keep you warm and protected from the elements. You will create a remarkable amount of heat and your layers need to be able to keep you dry when you ride. When you start your ride, you SHOULD feel cold and then warm up as you go. This way you won't start to sweat too much, which will make your skin and layers wet, which then will make you cold. All of this being said, it's advisable to carry extra warm layers, just in case you underestimate the temps or if you break down and have to spend time not riding while you make repairs or wait for a ride.

We recommend these clothing items:
Pro Tip from our in-house daily commuter that even sub-zero temps and a broken finger can't stop: Always ride with a spare pair of mittens/gloves.
Dial In Your Tire Pressure
Before you head out to ride, dial in your tire pressure. Lower PSI is better for soft snow conditions while higher PSI will be best for more packed terrain. You will likely need to experiment to discover what level of pressure is best for you and your riding style.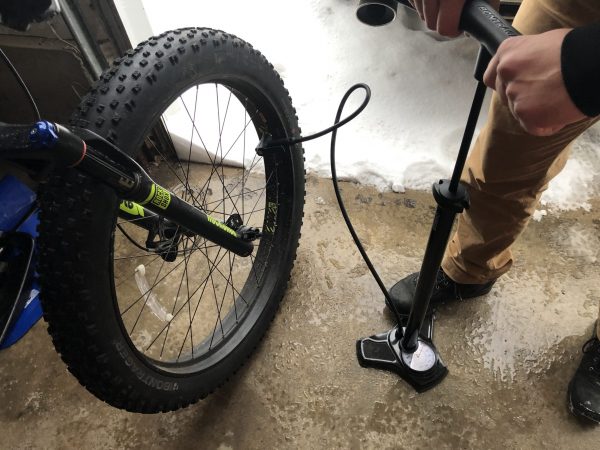 Adjust Your Saddle Height, It's Very Important For Fat Biking
Riding on snow and ice is an entirely different experience than riding on gravel or pavement. Lowering the seat on your snow bicycle allows you to position your center of gravity further back and down. This lightens the load on the front tire and help you maintain better control in icy conditions.

A great option to ensure you have your saddle height correct for any riding conditions is the addition of a dropper post. Dropper posts are seat posts that can be height adjusted while riding by using a lever, this allows riders to ensure they're always properly positioned on their bike in any condition.
Start Pedaling Smoothly And Slowly
When you start out riding on ice or packed snow position your body back to keep the bulk of your weight on the rear wheel. Then, smoothly and slowly begin to pedal forward. If you thrust your foot down too quickly and hard on the pedal there's a chance your rear tire will spin out. As your bike propels forward, stay centered on the trail and continue to pedal smoothly, adjusting your body weight as you go, until you reach your desired speed.
Just like with pedaling, brake as smoothly and slowly as possible. When you bike on snow you can't always tell what's beneath it. Is there slush? Ice? Going easy on the brakes gives you more ability to feel the terrain you're working with and to adjust in relationship to it as you slow down. Quick sudden braking, on the other hand, will likely cause a spin out and possible spill.
If you use a hydration pack, blow the water out of the hose and back into the bag to prevent a hard freeze! In extreme cold, insulation might not be enough to prevent freezing. One of the most effective ways to keep a water bottle from freezing is to keep the bottle in a jersey pocket next to your body and add the rest of your layers on top of the jersey — this way the bottle is kept from freezing by using the riders body heat.
Pogies attach to your handlebars and are designed to trap heat in and keep the wind and cold out, almost like little ovens. This allows you to wear lighter-weight gloves so you can more easily operate the brakes and shifters on the bike. Pogies are one of the best investments to help you stay warm and enjoy winter biking.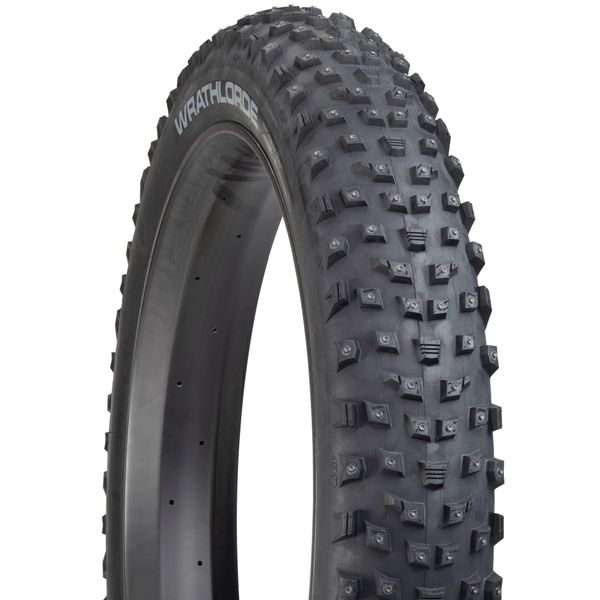 Studded Tires are a special type of tire that include a bunch of little spikes built into the tread of the tire. These studs help provide the best traction over ice and packed snow. If you're riding in a climate that can be described as the frozen tundra, you're a rider who will benefit from the extra traction these studs provide. Studded tires are also a seasonal "must have" for riders who commute by bike, and are available in a wide range of tire sizes. Since these tires are being used for a shorter season of riding, they tend to last 3+ seasons with regular riding.
Lights are indispensable for any cyclist, but if your plans include winter biking, they're even more valuable. The shorter days and varied weather conditions mean you are more likely to be riding in low-light or no-light conditions. Many experienced winter riders will tell you that riding snowy singletrack at night is amazing. But make sure you get lights that have enough power. If you are riding paved trails, look for lights with a minimum of 500+ lumens. If you are riding singletrack, you'll need at least 1000+ lumens. Check out Choosing the Best Bike Lights for Night Riding to learn more.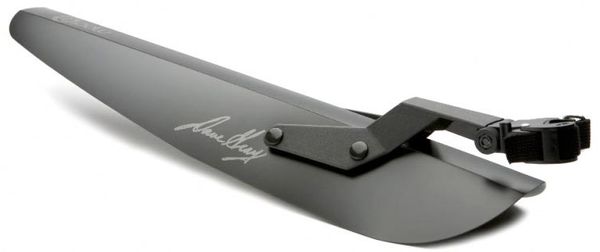 While you might not think about fenders when riding through fresh powder, winter conditions can literally toss all sorts of stuff at you. Fenders will help keep the snow, salt, and water off of you, keeping you drier and more comfortable. This is especially true if you plan on using your fat bike to commute since you'll encounter all sorts of crud on the streets. The good news is that there are some great fat bike-specific options out there.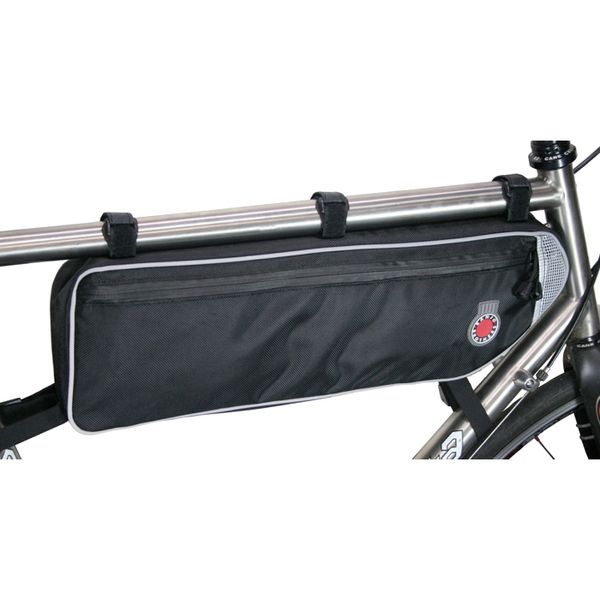 When riding in the winter, it's important to carry extra gear, especially extra clothing, to be prepared for whatever might come your way. Bags need to be bigger because winter riding gear is bulky (apparel, tubes, etc…). Fortunately, there are great frame and seat bag options that allow you to carry all of your necessary gear. And don't forget extra food!
Hydration is one of the biggest challenges of winter riding. Many riders underestimate the importance of hydration in the winter because the temps are so low and it doesn't take long for a water bottle to turn into an ice cube. But any time you exercise, no matter the season, you need to keep hydration in mind and replace water and electrolytes. Many companies offer insulated hydration packs that have an insulated hose and bag to keep the water from freezing. In extreme cold, insulation might not be enough to prevent freezing. One of the most effective ways to keep a water bottle from freezing is to keep the bottle in a jersey pocket next to your body and add the rest of your layers on top of the jersey — this way the bottle is kept from freezing by using the riders body heat.
Maintaining Your Bike While Winter Riding
Winter conditions are harder on your bike than dry summer conditions, between the wetness, salt, and more, riding bikes in the winter comes with some extra work between rides. There are key things you'll need to do to keep your bike in good shape and rolling throughout the season.
Clean your chain and gears every few rides, and keep them lubricated. Salt build-up on these moving parts can cause some damage and lead to expensive repairs/parts replacements. Regularly clean and lube these parts!
Wipe down your bike after every ride. This is an important step for your bike and floors. Drying your bike will help prevent damage, and it will also keep your floors clean and salt-free. Salt build-up under your bike will make a mess and can permanently damage some flooring types. Some people go as far to put some type of mat under their bikes in the winter.
Check your brakes before every ride. We all know why bikes need brakes, they're even more important to keep in top notch shape in the winter.Check/adjust your tire pressure! Proper tire pressure plays a huge role in having a good time winter riding. We recommend keeping a gauge and on you while you ride. Remember, your tire pressure will change when you go from your warm house to the cold air - so it's best to adjust your pressure outside.
CHARGE YOUR LIGHTS after every ride. Daylight fades (almost too) fast in the winter. Cold temps can make batteries die faster, and no one wants to ride in the dark without lights. Make a habit out of charging your lights after every ride. You can take it a step further by carrying a spare.
Store your e-bike indoors! If you can't store the entire bike inside, make sure to always bring your battery in.
Get a tune up! A professional tune up will be more in depth and make sure all parts of your bike are in top notch shape and rolling properly. Winter is also a good time to take advantage of service specials!
Winter cycling can be a ton of fun. It is a completely different style of riding. But you'll enjoy it a lot more if you are prepared with the right gear. Swing by your local ERIK'S or use chat and let us get you geared up to ride in the tundra… and enjoy it!
Erik was only 13 when he started Erik's in 1977. His first bike, a hand-me-down from an older family member, sparked his interest in bikes. With entrepreneurial spirit, and the money he saved from his job as a paperboy, Erik began his business. Erik's Bike Board Ski has grown into the Midwest's leading bike, snowboard & downhill ski retailer. We are passionate about our sports & experts on all the gear we carry! Learn more about ERIK'S History.