Do Cycling Shoes Make a Difference?
You can ride a bike barefoot if you want to, but cycling shoes make a big difference for bike riding! What difference do bike shoes make? The biggest ones you'll notice right away is comfort, followed by more of your energy being transferred to the pedals!

Cycling shoes will provide more support & stability while riding, eliminating unnecessary stress on your hips, knees and feet that often occur when riding in more flexible everyday athletic shoes designed for walking. The added support keeps you more comfortable, when you're comfortable you're riding more often, riding farther and are enjoying the ride even more!

Second, cycling shoes are designed to improve the transfer of your pedaling energy into the bike. Everyday shoes typically are flexible for walking, a fair amount of the energy you put out gets lost when the shoe flexes. No matter if you are racing or riding around town, being more efficient is a win for everyone.

This bike shoe and pedal guide will explain the different types of bike shoes and pedals, and why cycling shoes are a must have for all bikers. Continue reading to learn the basics of how to choose the right cycling shoe and pedal system for you.
What Comes First - The Shoe or the Pedal?
Our feet were not built for biking, luckily with the right cycling shoe and pedal system can make it seem like they were!

Feet are the foundation of your body and the transfer point for force from body to pedal. They're one of three body parts that actually contact the bike. Shoes act as the middleman to create a relationship between your body and your bike, so comfortable feet is key to happy riding.

While shoes can work with many pedals - your unique feet may only work well with a few pairs of shoes. So, when you're ready to start the search for your perfect shoes and pedals, remember that cycling shoes come first!
There are many shoes to pick from, figuring out which is best for you may seem like a challenge. That's why you're here! You'll want to choose a shoe built for the kind of riding you enjoy doing the most. So naturally, the first question you must ask yourself is: "Where will I ride my bike?" Will you ride on the road? On paved bike paths? On gravel roads? On local mountain bike trails? Around town running errands? In the gym on a spin bike?

Once you have that questions answered, it will be pretty easy to pick the style of shoes you need!

There are 2 main types of cycling shoes: Flat and Clipless. Then 4 main categories of cycling shoes: Mountain Bike Shoes, Road Bike Shoes, Recreational Bike Shoes and Cold Weather Shoes. Read the sections below to learn about each type of shoe and what kind of rider they are best for.
1. Flat Pedal (Mountain & Recreational) Cycling Shoes:
Flat bike shoes are designed for biking using platform pedals. Platform pedals are your standard bike pedal with a flat, large platform to support your foot. Sometimes flat pedals will include cages or toe clips. You tuck your foot into these add-ons to make it more secure on the pedal as you ride.
2. Clipless Pedal Cycling Shoes (sometimes referred to as 'clip-in'):
Clippless bike shoes are designed for biking with clipless pedals. These are smaller pedals with a locking mechanism that uses a cleat to attach to your bike shoe. They are called 'clipless' because they don't require the use of toe cages attached to flat pedals. These shoes/pedals give riders a solid connection to their bike making their pedal power more energy efficient on both the downstroke and upstroke of pedaling.
Is there a Difference Between Spinning and Cycling Shoes?
In short, no. Both spinning (indoor cycling) and cycling shoes are designed to provide a more comfortable, energy efficient, and safer ride. Most Spin bikes will use a 2-Bolt SPD pedal, so any 2-bolt compatible shoe can be used for spinning. There are some spin bikes that use pedals that are compatible with 3-bolt cleats, including Peloton, but most studios and gyms use 2-bolt cleat compatible pedals. There are some companies that do make Spin/indoor cycling specific shoes, it is important to note that these are designed for indoor cycling only and are not suited for outdoor use. In the end as long as the shoe works with your feet and is compatible with the spin bike pedals - you have a spin shoe! As the saying goes, if the shoe fits, wear it (spinning)!
Mountain and Recreational Bike Shoes: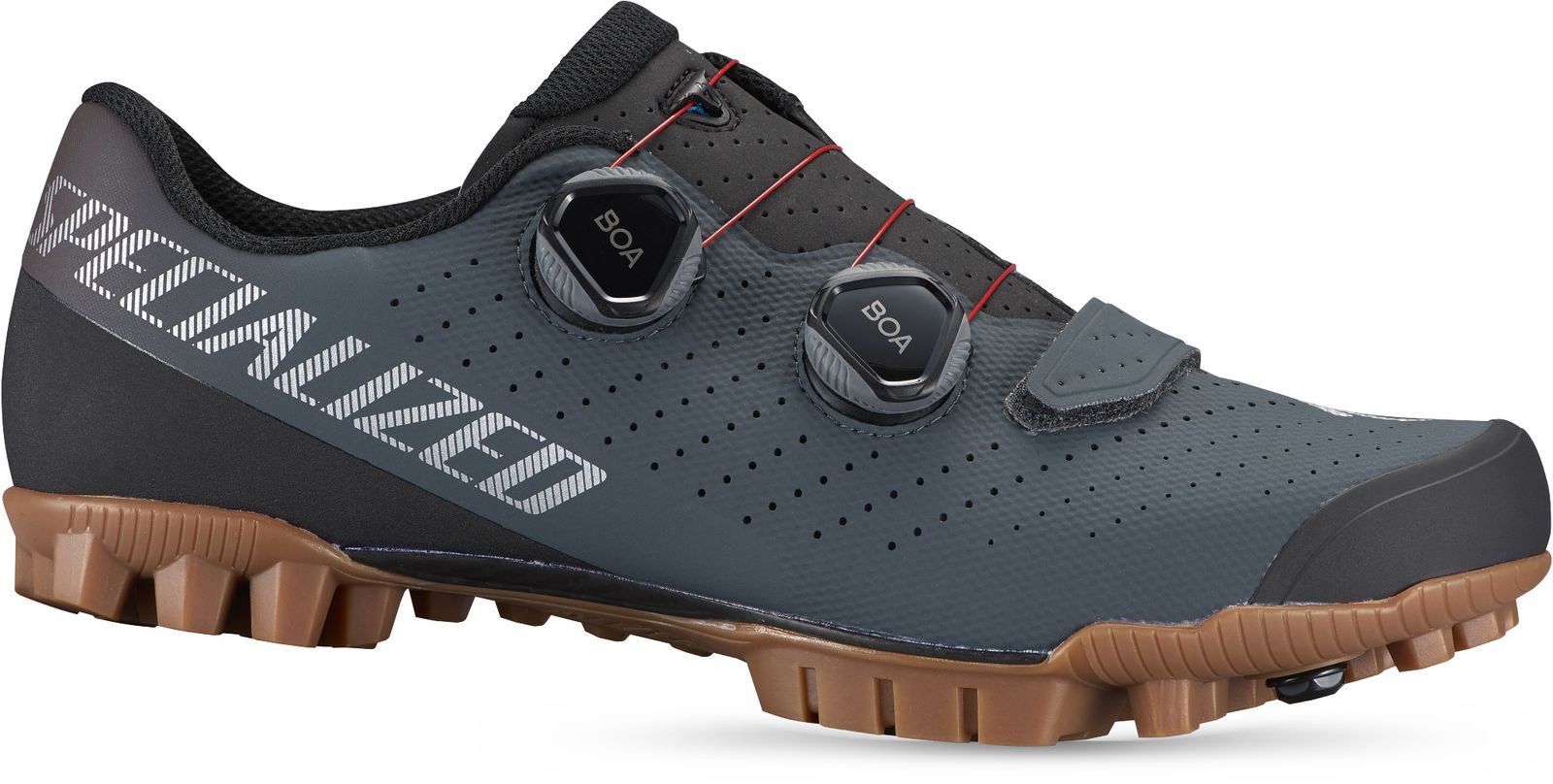 Typically used on mountain bikes, but are also commonly used on gravel, touring and spin bikes. Mountain Bike shoes are made to pair with specific types of pedals (2-bolt). They offer foot protection for rugged riding, and have stiff soles to enhance your power transfer. The cleats on mountain bike shoes are recessed allowing you to walk over obstacles and have grip from the soles. This grip also makes them great for cyclocross.

If you primarily ride on dirt or gravel, are looking to bike-pack, join spin class, or want to have a shoe that allows you to walk around with ease while off the bike AND have the efficiency gains of being clipped into a pedal - a mountain bike shoe may be best for you!

Recreational riders who want clipless pedals generally prefer a mountain bike shoe for their mobility and ease of use.

Not all mountain bikers prefer to use clipless pedals and shoes. Many mountain bikers opt to use flat shoes and pedals, which are often categorized as recreational bike shoes. Though labeled as recreational, many of these flat shoes are packed with high end features. Keep reading to find out more about these shoes.
Mountain and Recreational Flat Shoes: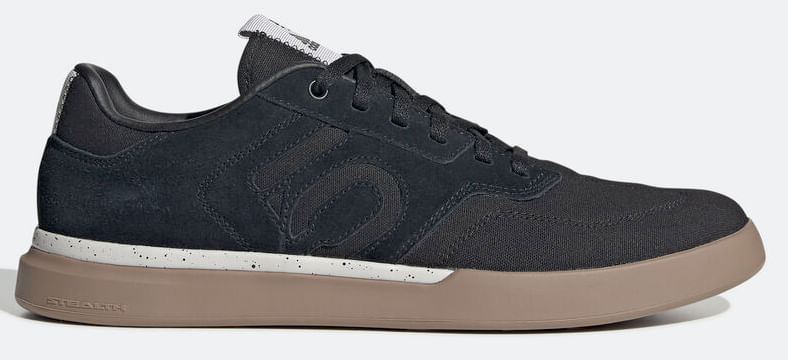 Just because you don't consider yourself a serious mountain biker or a serious rider at all, doesn't mean you can't benefit from investing in a pair of recreational cycling shoes. Recreational biking shoes make you more comfortable and efficient on your bike. They also preserve the longevity of your joints! These may look similar to your daily sneakers, but are so much different! The soles of bikes specific shoes are stiffer than sneakers, feature a fit and support specific to riding a bike.

If you're a mountain biker who doesn't like clipless pedals, ride for fitness, like to run errands by bike, ride around with the family, or prefer flat pedals but want more comfort and power, Flat Bike Shoes are ideal for you!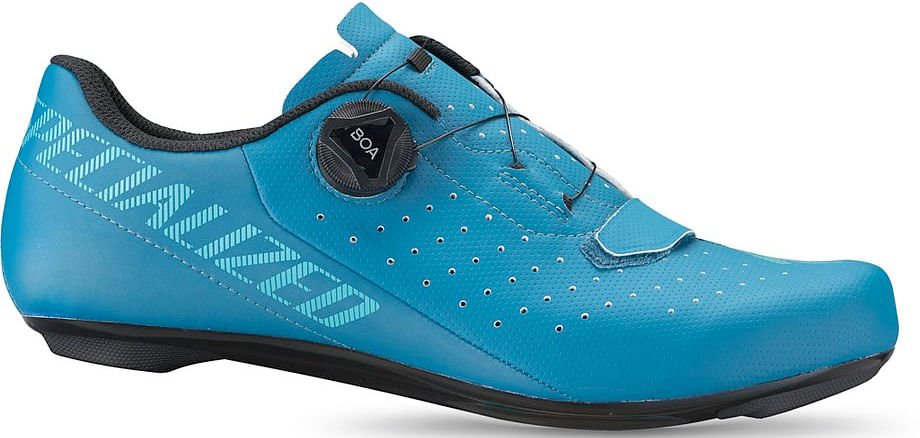 Primarily used for road riding, fitness riding on paved surfaces or triathlons. Road bike shoes differ from mountain biking shoes in many ways. Road shoes are designed to be smooth and lightweight. They are also not made to be walked around in for extended periods of time. These shoes are designed to pair with a 3-bolt pedal system and have even stiffer soles for more pedaling efficiency. They are also designed with smoothness and lightness in mind to make riding longer distances a more enjoyable.

If your goal is speed, and you ride only on paved surfaces (road or bike paths) and do not have much desire to walk around in the shoes off your bike, road cycling shoes are a great option for you. Road shoes are also great for triathletes, as well as commuters looking for a speedy efficient ride to work.
Cold Weather Biking Shoes / Boots: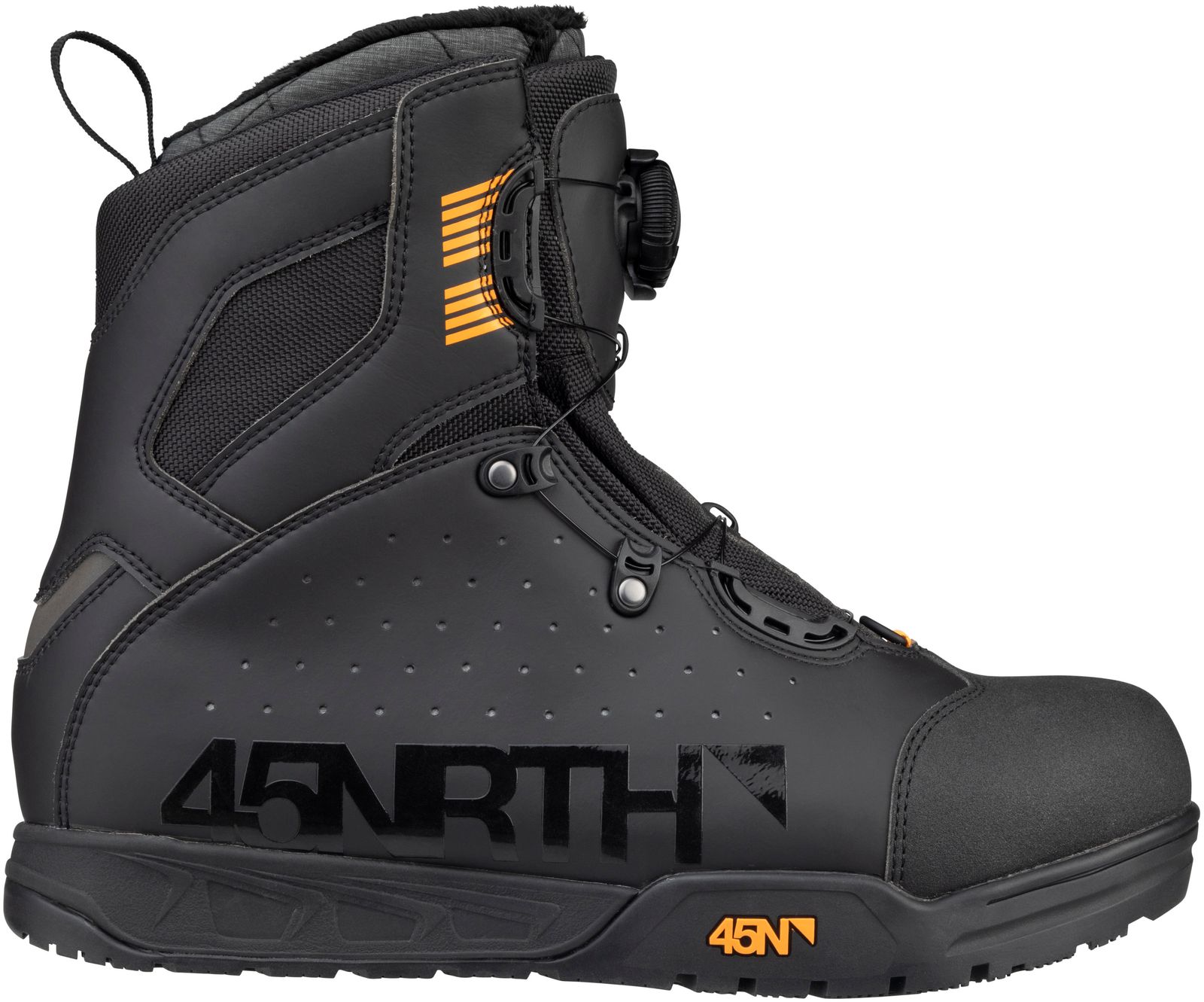 If you ride year-round you will benefit from having extra gear to get through the winter months. Keeping your feet warm is one of the most essential parts of winter biking.

Depending on where you live and what your winter climate is, you may need more shoes. If you're in a warmer climate it could be a pair of thicker cycling socks intended for cold weather riding. For more protection from the elements you could try a shoe cover. Most are wind-proof, waterproof, and work to keep your feet nice and toasty. If you live where the temperature dips into the sub-zero, cold weather cycling shoes or boots might be what keeps you riding comfortably all winter long.

Many cold weather cycling shoes and boots include these features:
Special insulation in the sole and over the toe of the boot to prevent cold penetration and heat loss
Removable liners that wick moisture from skin
2-bolt clipless compatibility for easy clip on and off
Anti-slip soles so when you're safe on and off your bike when conditions are icy.
Check out our selection of cold-weather cycling shoes and boots here. Or, for more protection from the elements you could also try a shoe cover.
Picking the right shoe size is critical to getting the comfort and energy saving benefits of cycling shoes. It can also be a challenge with bike shoes being in EU sizing. If you are able to stop into a local ERIK'S location, we do recommend getting sized for cycling shoes in person to ensure the best fit.

If you're unable to get sized in person, each of our shoe product pages will have a size chart. These size charts will include a conversion from American Standard shoe sizes, to the correlating EU size. Most regular shoes also list the EU size on the tag, so it's a good idea to check your normal shoes to get a good idea of which size is best for you! It's also important to remember that cycling shoes are designed to fit snugly.
Why do Cycling Shoes Vary so Much in Price?
Just like anything else, there are sometimes great differences in prices of cycling shoes. This is due to the vast differences in materials used, construction methods, closure devices, etc. The higher the technology, the better the experience, comfort and energy savings will be! But at the same time, the price will also be higher.

Many riders, from entry level to racers find that a pair of high-end of cycling shoes is worth it. The increased comfort and pedal efficiency makes riding that much better. But, even the more budget friendly cycling shoes deliver awesome results - especially if they fit right!

Before we move onto bike pedals to complete your cycling shoe system, let's talk socks!
Do I Need to Wear Cycling Socks with my Bike Shoes?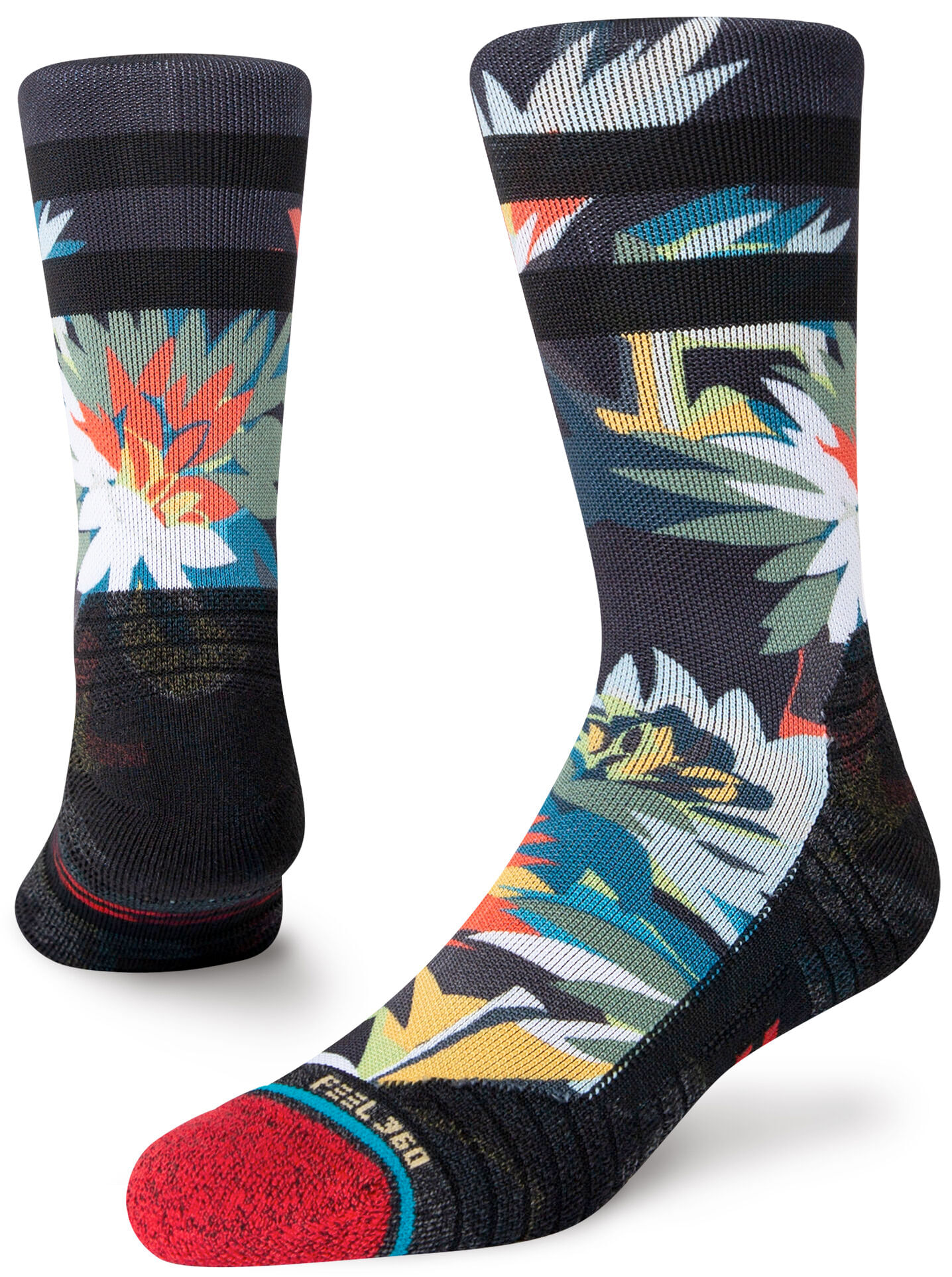 You've found your perfect cycling shoes. They fit like a glove and you know they're going to make your riding experience way better… unless, your socks don't play well with them. That's right. Socks matter when it comes to biking!

Regular cotton socks hold moisture and will make your feet hot, moist and uncomfortable - they may even bunch up and cause friction on your feet, not good!

So what makes bike socks different?

They're thin:
Cycling socks are designed on the thin side so they fit into your already close-fitting bike shoes. Regular "gym socks" will likely be too thick making your shoes feel too tight and uncomfortable.

They're snug:
Cycling socks mirror the snug-fit of cycling shoes to promote efficient pedaling. Some even offer compression bands to enhance arch support.

Moisture-wicking and breathable fabrics:
Cycling socks wick the sweat away and dry quickly. This means less chance of getting blisters or hot spots from damp socks irritating your skin.

Cycling socks are designed to be just the right length:
Depending on the style of riding you do, the length of your sock matters. Cycling socks are made with that in mind!

Shop cycling socks now!
Once you've picked out your cycling shoes, you'll need compatible pedals to complete the cycling shoe and pedal system. Flat biking shoes will work with all platform pedals, but clipless road and mountain bike shoes require compatibility.
There are two main types of clipless pedals:

2-Bolt Cleat System or Mountain Style Pedals
Works with Mountain or Recreational Cycling Shoes
The lugs are recessed on the bottom of shoes for easy walking off the bike
More mobility for ease of use
All spin bikes (except the Peloton Indoor Cycle) feature the 2-Bolt Cleat System (these bikes use the SPD style cleat)
3-Bolt Cleat System or Road Style Pedals
Works with Road Cycling Shoes
Provides riders a more precise connection to their bike (wider platform from the 3-bolt style cleat)
The lugs are not recessed meaning walking in them is more difficult
Gives bicycle fitters more options for adjusting to fit the pedals and shoes to the rider's position
Flat (Platform) Pedals
The biggest platform to pedal on
Riders aren't mechanically connected to their bike
Many riders simply prefer to ride flat pedal
Whether you choose 2 or 3-bolt pedal systems will depend upon the type of shoes you select. You can view all of our pedal options online here or talk to any of our knowledgeable staffers at your local shop to learn more which pair will work best with your cycling shoes.
Now that you are versed in the cycling shoe and pedal system take a look online at our available shoes and pedals. While you're at it — don't forget to check out our cycling sock selection too!

If you're ready to shop right now, online - check out this video to be guided through the online cycling shoe buying process.
If you want to shop in person, just swing by your local ERIK'S. Soon you'll be feeling a brand new level of pedal power and wondering why you waited so long to upgrade your ride with the simple addition of cycling shoes!
Erik was only 13 when he started Erik's in 1977. His first bike, a hand-me-down from an older family member, sparked his interest in bikes. With entrepreneurial spirit, and the money he saved from his job as a paperboy, Erik began his business. Erik's Bike Board Ski has grown into the Midwest's leading bike, snowboard & downhill ski retailer. We are passionate about our sports & experts on all the gear we carry! Learn more about ERIK'S History.