Gravel Road Bikes, sometimes referred to as Adventure road bikes, are becoming more popular each year. These go-anywhere road bikes are made to tackle a variety of terrain making them a top choice for many new and seasoned riders! Whether you are commuting to work, running to the grocery store, doing a 3-day camping expedition, competing in a gravel race, or exploring the path less traveled, these bikes are made do it all.

These bikes look similar to a road bike, but with several differences that make them suitable for riding just about anywhere. In this guide, we'll talk about what makes gravel road bikes different from your standard road bike. If you want to learn more about road bikes, make sure to check out our Road Bike Guide. If you are looking for adventure on and off the pavement, keep reading to learn how to decide which gravel bike is best for you.
An evolution from Touring Bikes, Gravel bikes are built to ride anywhere and be fun! With wide tire clearance, disc brakes and a geometry dialed in for adventure riding, Gravel bikes are stable, reliable, and versatile, so you can ride anything from a commute to work to weeks of camping along unmapped backroads - efficiently and comfortably.

A traditional road bike is perfect for riding on pavement. Standard road bikes are efficient and fast, but are best kept on pavement. The gravel road bike grew out of a desire to be able to ride anywhere and everywhere, regardless of the road surface, conditions, distance, or cargo load.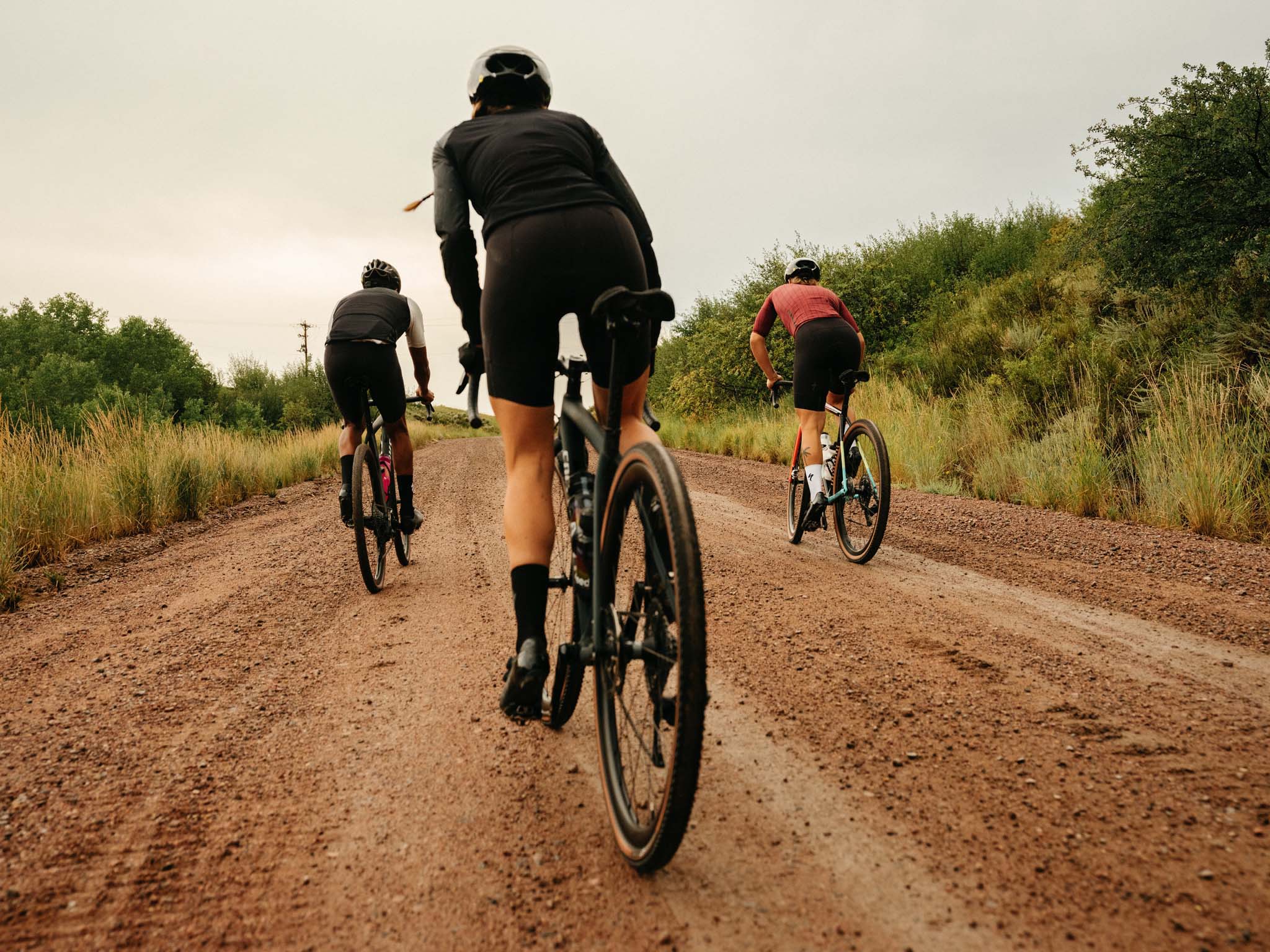 Gravel Bike Vs Road Bike Geometry
Gravel road bikes look very similar to traditional road bikes, but it's the details that make them different. They have a similar riding position as an endurance road bike, which is slightly more upright thanks to a taller head tube. This alleviates strain on the back, neck, arms, and hamstrings. Because the rider is also positioned lower in the bike, their center of gravity makes them more stable on any uneven or loose terrain.

In addition to that more upright position, gravel road bikes tend to have the front wheel further out in front of the rider. This results in a longer wheelbase, which helps the bike keep a straight line more easily. This is especially handy on looser terrain or when carrying heavier loads on the bike. The longer wheelbase of a gravel bike also means a smoother ride, forcing vibration to travel longer distances and keeping you steady over the bumps encountered along the way. Along with frame geometry, many bike makers have designed seat posts from materials like carbon fiber, which don't transfer vibrations from the surfaces being ridden on to the rider, and can be engineered with vibration and impact damping qualities.

The result, when you combine a relaxed body position with a smooth yet still efficient frame, is a bike that allows riders of every level to push the limits of endurance and explore new roads and vistas previously beyond their reach.
Gravel Road Bikes are built with more frame and fork clearance to allow for wider tires with more tread. Most gravel bikes allow for both 700c and 650b wheels with a width clearance of 45c or 2.3 inches. Some models even allow up to a 50c width. These wider tires can be run at lower pressures to increase traction, control, and comfort over just about any terrain and in any conditions — pavement, gravel, dirt, rain, mud, or snow. The wheels found on gravel bikes are also built to be able to handle rougher terrain and heavier loads on the bikes. This wider frame clearance often means that fenders can be accommodated as well.
Gravel Bikes feature disc brakes, and for good reasons. Most importantly, they offer confident and more controlled stopping in a variety of conditions and while stopping when riding with heavier loads. They allow the rider to apply braking power more accurately, which is critical when riding on lower traction surfaces. This means you can use just the right amount of braking before you start to skid. They also stay cleaner and work better than traditional rim brakes since the braking surface is closer to the hub. Rims tend to get dirtier since they travel through dirt, dust, and puddles and road grime gets tossed towards the outside of the wheel. A final advantage is that disc brakes allow for wider tire options. A rim brake must clear the tire to reach the rim, which limits tire options and makes disc brakes a must have on a Gravel Bike.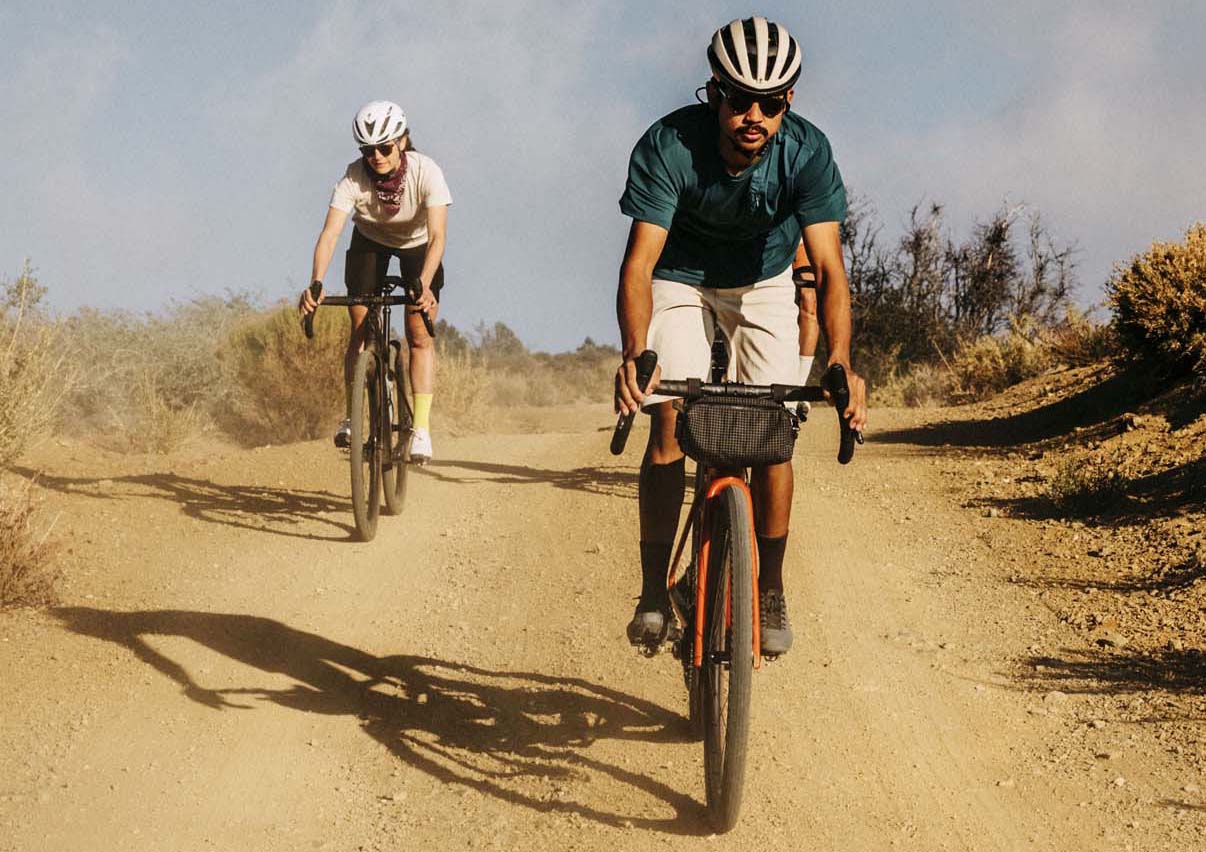 Most cyclists, even casual ones, are familiar with traditional quick release (QR) wheels. With the popularity of disc brakes, thru-axles are now found on more and more bikes as well. Unlike a QR, thru-axles don't have a slot in the frame or fork for the wheels to go in and out of. Instead, the frame and fork have holes for the axle to pass through to hold the wheel in place.

So why the switch to thru-axles over quick releases? A large part of it has to do with disc brakes. When braking with a disc, the forces applied to the wheel want to pull the wheel downward, so thru-axles prevent that from being a possibility. The other advantage is that with a thru-axle, you're tying the fork legs together, reducing lateral flex and increasing steering precision.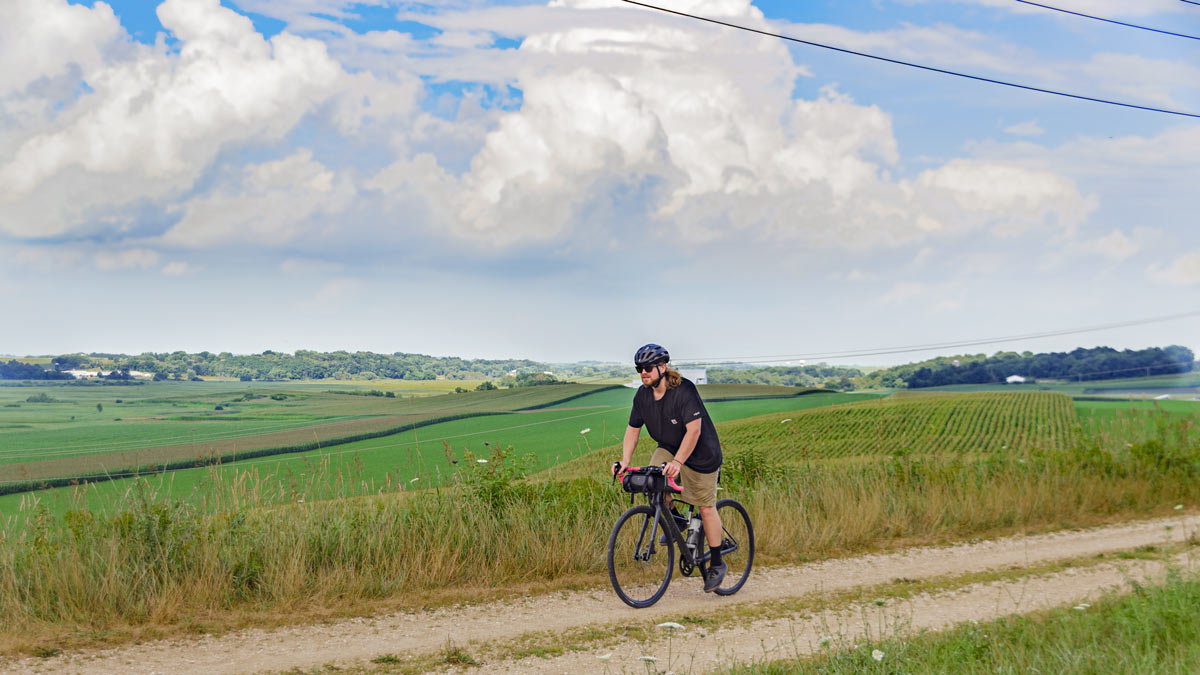 Can I Carry More on a Gravel Bike?
One of the great things about gravel bikes is, as the name implies, they almost beg you to take them out for epic trips. Compared to their road bike cousins, most gravel bikes will feature far more options for mounting bags(panniers), bottles, racks, fenders, and other accessories so that you can load the bike up and carry everything you need. From a change of clothes and a laptop for the office, to all of your camping needs for days off the grid, these Gravel bikes are designed to take on the load and still ride efficiently and predictably.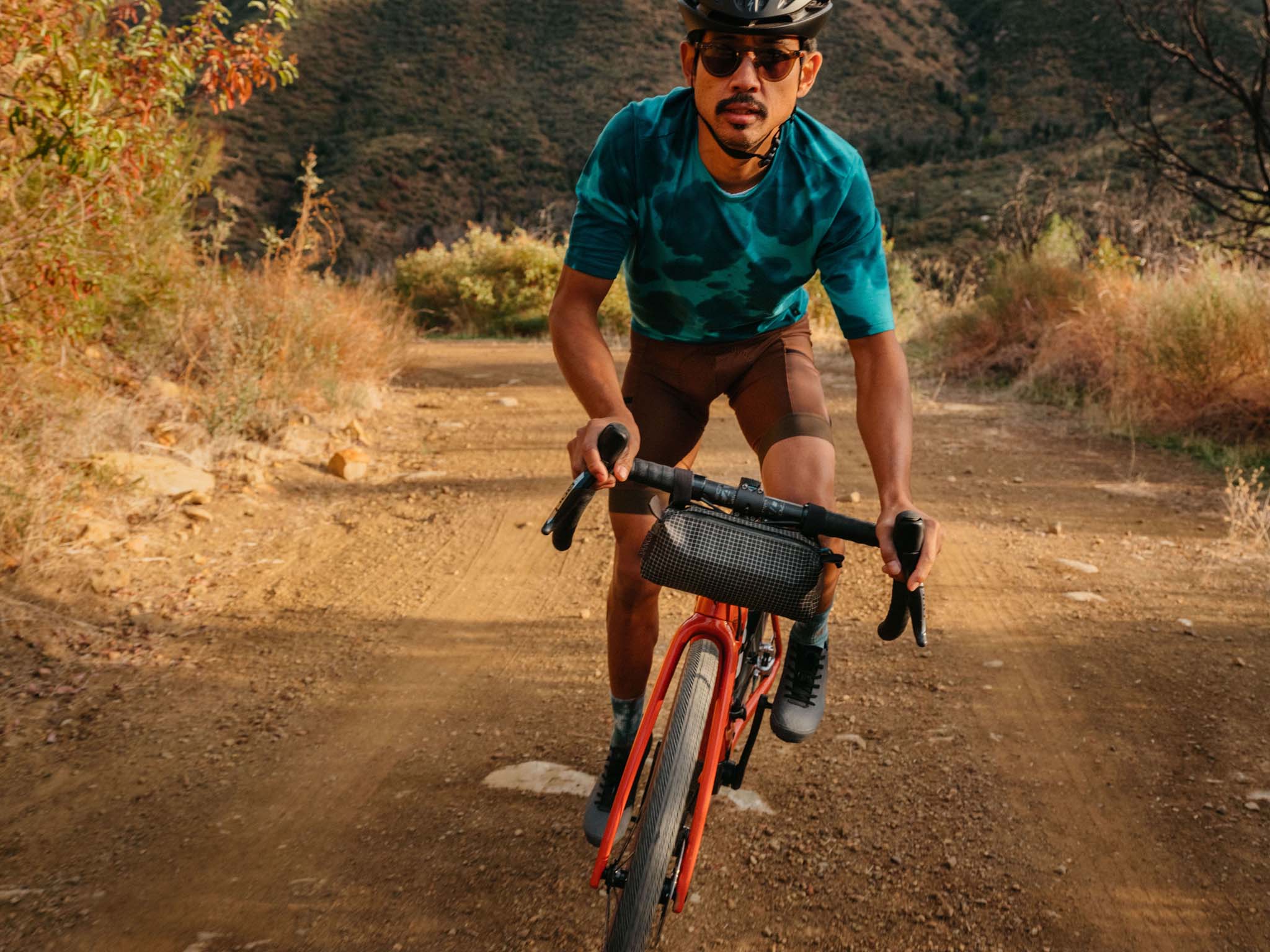 Originally found only on heavy-duty, downhill mountain bikes, dropper posts have almost become commonplace on gravel bikes. A dropper post is just what it sounds like, a seatpost that drops down to get the seat out or your way in challenging terrain. There is a remote button placed on the handlebars that allows the rider to flip the switch and drop the post, allowing them to drop their center of gravity for more control over the bike. There are even wirelessly controlled, electronic dropper posts!
Gravel Bike Frame Materials
The first thing to remember about frame materials, whether it's carbon fiber, aluminum, or steel, is that the material is only as good as the engineering behind it. You can find great-riding bikes made from any of these materials and poor-riding bikes just the same.

Gravel road bike frames are generally constructed with these three materials:

Carbon fiber
Carbon fiber is an excellent material for building a bike for two main reasons. One, it has incredibly high strength and stiffness-to-weight ratios. Second, unlike steel or aluminum, it can be manipulated in almost endless ways. This means a frame can be made incredibly stiff in specific areas or directions, like areas that impact turning pedal power to moving you forward. It also means a frame can be made to have forgiveness in other areas to reduce vibrations and impacts from reaching the rider. This combination makes it an ideal material for a gravel bike.

While you might choose a bike that has a frame that's made from a material other than carbon fiber, don't be surprised to find a carbon fork and seatpost. By using carbon for these parts, you gain the benefit of smoothing out your ride no matter the terrain.

Aluminum
Aluminum has a better strength-to-weight ratio than steel. This allows manufacturers to manipulate tube shapes more than is possible with steel, resulting in remarkably lightweight and strong bicycles that still have great ride qualities both in terms of efficiency and comfort.

Steel
Steel has a high strength and durability rating, and its properties generally yield a very comfortable riding bike. Of the three materials listed here, it's also the heaviest, which is why you don't find as many bikes made from steel today. It's still used for some gravel bikes thanks to its comfortable ride qualities.
Gravel Bike gearing is designed to offer riders a good mix of easy climbing gears and gears that allow for speed through drivetrains with 8 to 13 gears in the back and single or double chainring setup in the front. This allows riders to tackle a wide variety of terrains and hills with heavier loads by using either one or two chainrings in the front. A single chainring might seem counterintuitive to a bike that would benefit from a wide range of gears, but many 1x drivetrains offer a super wide selection of gears in the back (from the cassette) that deliver almost the same range as a double (two-chainring) drivetrain can offer with a smaller range cassette. These 1x drivetrains give riders more simplicity and less maintenance (because there's no front derailleur, no shifter, and no front cable) to worry about on your adventures!

As you move up in levels of components and wheels, you'll see a common theme – lower weight and higher performance. Regarding shifting, this will mean faster, crisper shifts. At the top end, you'll even move from mechanical to electronic shifting, even wireless electronic shifting, which offers the pinnacle of performance. For wheels, they'll get lower in weight while still retaining strength and durability.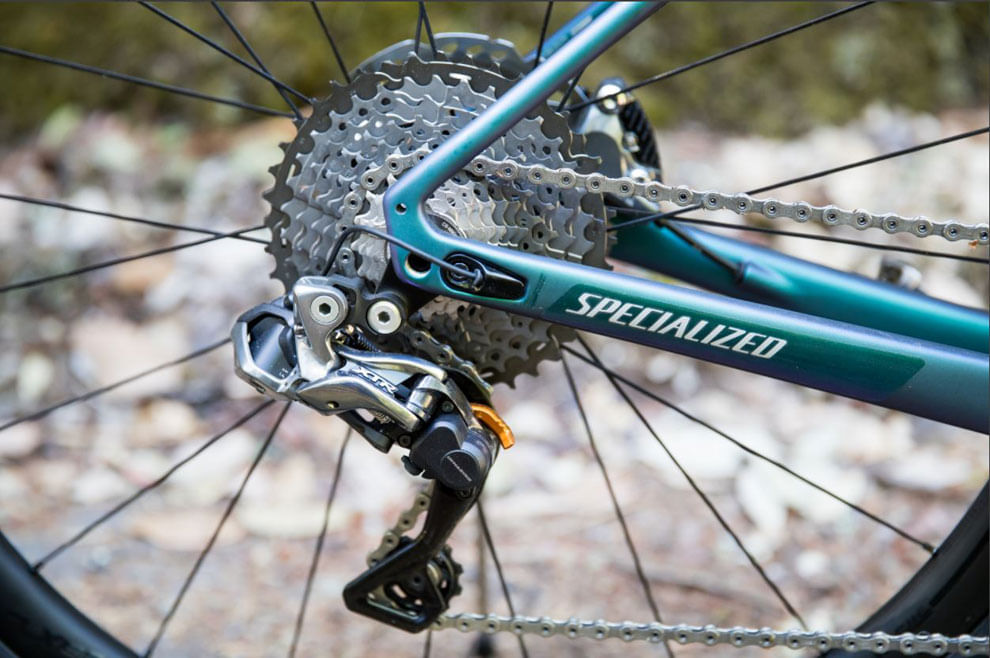 Who Are Gravel Bikes For?
Gravel bikes are the perfect bikes for people who like ride to get away. Away from the hustle and bustle, away from heavily trafficked roads and paths, away from riding the same routes over and over. These bikes are for people who want a bike that is capable of a commute through the city during the week but are ready to be loaded up for a long weekend ride or camping adventure through the woods. If you're looking to explore more and jump off the beaten path - a Gravel Bike is a great option for you!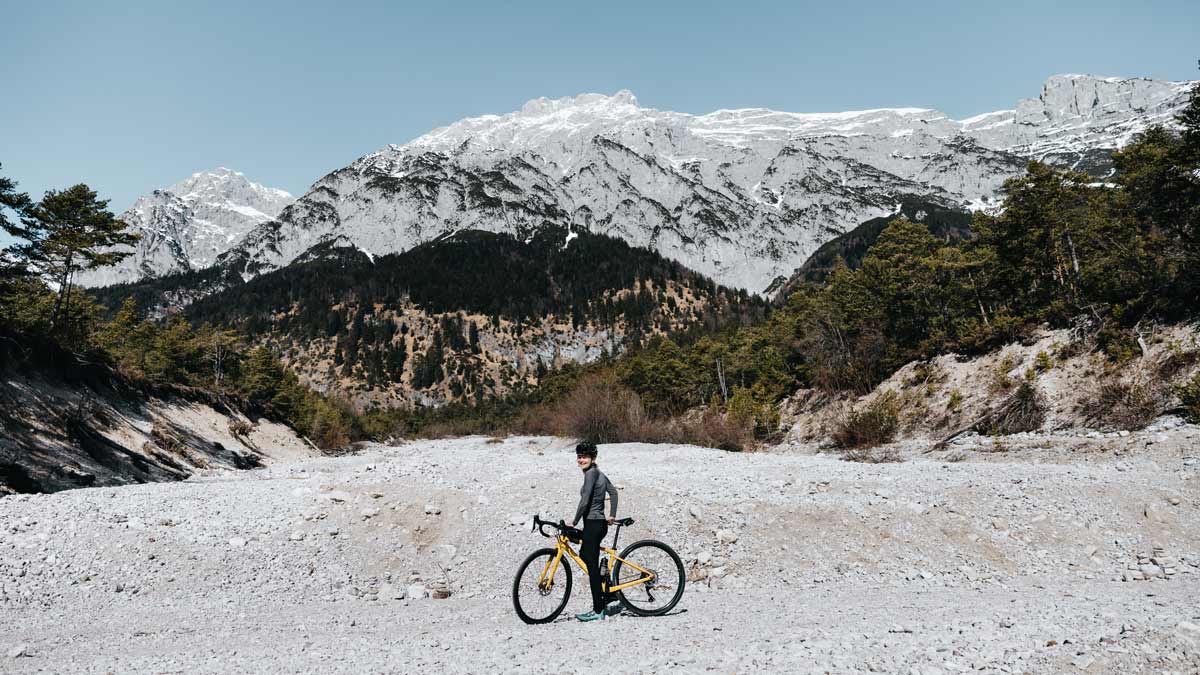 Adventure road bikes are perfect for any adventure. They are designed to be stable when carrying a load, whether that's a week's worth of groceries or gear for a weekend bike-packing trip. Like a traditional road bike, their efficiency makes trips easier. But unlike a traditional road bike, they are ready for gravel, dirt, or wherever the trails take you. Of course, being able to adventure with your gear means you need to have a way to carry everything. To get the most out of your adventures with the least amount of headaches when help isn't nearby you'll want some accessories. These are some of them that we recommend for your Gravel Bike...
A Flat Kit - Being far away with a flat tire and no fix is no fun!
Frame Pump or CO2 Pump - Patching a hole is great, but filling the tire is also essential.
Extra Water Bottles or Hydration Backpack - Long rides, and camping call for staying hydrated longer. Having enough water can make or break a trip!
Nutrition - Helps keep your body fresh and fueled for long rides.
Rear Rack - to mount your gear on to easily carry the load with ease.
Front Rack - to carry even more gear and evenly distribute the load.
Panniers - Bags that can be packed with gear to keep is secure and clean. Waterproof panniers ensure everything stays dry when you ride through rain or puddles.
Frame Bag - to keep important items within reach (such as a rain jacket).
GPS Computer - Tracks your ride and will provide directions off the beaten path without cell service.
A BlueTooth Speaker, or other music device like AfterShockz Headphones.
A riding buddy! Riding with friends is the best accessory for any type of riding!
Erik was only 13 when he started Erik's in 1977. His first bike, a hand-me-down from an older family member, sparked his interest in bikes. With entrepreneurial spirit, and the money he saved from his job as a paperboy, Erik began his business. Erik's Bike Board Ski has grown into the Midwest's leading bike, snowboard & downhill ski retailer. We are passionate about our sports & experts on all the gear we carry! Learn more about ERIK'S History.